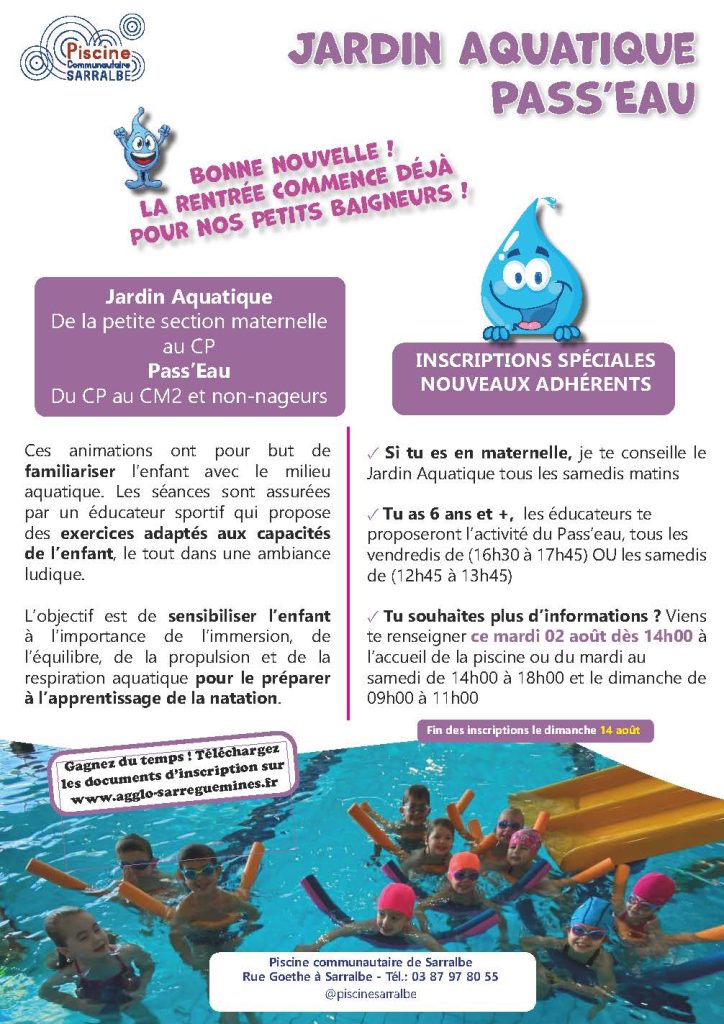 As a reminder…
Aquatic Garden : from the small nursery section to CP
Water pass : from CP to CM2 and non-swimmers
The aim of these activities is to familiarize the child with the aquatic environment. The sessions are provided by a sports educator who offers exercises adapted to the child's abilities, all in a fun atmosphere. The objective is to make children aware of the importance of immersion, balance, propulsion and aquatic breathing to prepare them for learning to swim.
So…for new subscribers:
If your child is in kindergarten, we recommend the Aquatic Garden every Saturday morning
Your child aged 6 and over, we offer the Pass'eau activity, every Friday from 16:30 p.m. to 17:45 p.m. or Saturday from 12:45 p.m. to 13:45 p.m.
If you want more information or register your child, meet this Tuesday from 14:00 p.m. at the pool reception or Tuesday to Saturday from 14:00 p.m. to 18:0 p.m.) and Sunday from 09:00 a.m. to 11:00 a.m.
Save time! Download the registration documents in the "Entertainment" / "Sarralbe swimming pool" tab